Artificial intelligence accompanies many fields of life, way more than you could imagine, especially if you're not proficient in tech topics. From the most popular search engines and translation apps to self-checkouts at convenience stores, AI is basically everywhere, present also in plenty of areas not associated with future-forward solutions until now. Education, automotive, healthcare, and agriculture, to name a few industries tirelessly developing AI solutions to boost their operations. Algorithms are deployed to solve specific problems efficiently, mimicking intelligent, human behavior.
Still not convinced of the importance of artificial intelligence? We've got some numbers and facts to prove our point.
Key AI stats for 2023
Statistics about artificial intelligence leave no room for doubt. AI drives the world as we know it into new dimensions.

Valued at over USD 136 billion in 2022, the global AI market is predicted to grow to USD 309.6 billion by 2026 at a Compound Annual Growth Rate (CAGR) of 39.7%.
Nearly 80% of everyday devices incorporate some form of artificial intelligence.
The global wearable AI market is expected to reach USD 166 billion by 2030, growing at 29.3% CAGR.
In 2022, investments in AI startups slowed down – companies in search of future funding are forecasted to rise 36% less compared to 2021.
69% of machine learning researchers believe AI and its development are a safety concern and should entail a greater focus on safety.
According to Gartner, chatbots are becoming the primary customer contact channel for businesses, and by 2027 25% of companies will be using them in their operations. The chatbot market is forecasted to grow consistently and reach USD 3335.3 million by 2028.
Business AI stats
35% of companies declare the application of AI in their operations, meaning a four-percent increase compared to 2021. On the downside, the gap in artificial intelligence adoption between smaller and larger companies is also growing – in the previous year, market giants were 69% more likely to incorporate AI in their processes. As of 2022, the chances are big companies will be 100% more favorable toward AI.
12% of companies achieved AI maturity which enabled their significant growth and business transformation.
Only 1% of comprehensive AI adopters claim the return on artificial intelligence undertakings didn't meet their expectations.
In 2024, 49% of companies surveyed by Accenture are expected to spend over 30% of their tech budgets on artificial intelligence development.
Top factors driving AI adoption – artificial intelligence stats
43% AI becoming more accessible and available
42% economic reason driving the search for savings through process automation
37% increase in AI embedding in ready-made business apps
31% the need to remain competitive in the market
31% new challenges and requirements resulting from the COVID pandemic
25% consumer demand
Remaining factors include drivers like company culture and environmental challenges. Surprisingly, labor and skill shortages are declared to power AI adoption by slightly over 20% of companies. In times of ongoing generational change and challenges related to e.g., tribal knowledge (often occurrence of vital knowledge being present only in the heads of employees, who by leaving the company take their expertise with them), only ⅕ businesses consider incorporating artificial intelligence in their workforce.
Artificial intelligence statistics – investments
Companies engaged in AI processes are expected to address the following operations:
44% research and development
42% incorporating artificial intelligence into ongoing projects and apps
39% workforce growth and competence building
32% creating proprietary offerings
28% enhancing ready-made apps and solutions
Companies planning to incorporate AI in simulation processes aim to boost market conditions forecasting (57%), improve supply operations (54%), secure long-term decision-making processes (53), develop new products and reach new markets (54%), and hire and train workforce (39%).
AI statistics across industries
Transportation – by 2025, the adoption of AI-driven cars and vehicles is forecasted to reach 109% (considering that a single vehicle will be equipped with more than one smart system).
The Madrid Metro used AI to look past the data on passengers, trains, and other variables to achieve a 25% decrease in annual energy consumption.
The application of AI in agriculture is expected to grow at 20% CAGR and reach USD 5 billion by 2026. Examples of artificial intelligence adoption in food production provide a wide range of possibilities. Algorithms are capable of, e.g., detecting the ripeness of vegetables based on color analysis, with a classification rate at even 99.31% in the case of computer vision tomato analysis.
Education: until 2025, even 47% of learning management systems will be backed with AI potential. While utilizing algorithms in professional LMSs is no surprise from the business perspective, technology is entering all educational stages. AI supports teachers, from identifying classroom issues to personalizing learning experiences and automating mundane tasks like grading homework.
Facts about artificial intelligence
Artificial intelligence adoption is a growing trend due to the high demand for task automation, cost reduction, and establishing new opportunities for process execution across industries.
AI statistics show that the implementation differs across industries, countries, and companies. The disparity is explicit: 26% of companies in the UK and 25% in the US are deploying AI solutions. At the same time, even 60% of business entities in China and India are already powering their operations with AI.
The inequalities within market niches are also visible: fields like financial services, aerospace, and automotive are at the forefront of artificial intelligence adoption, leaving other industries in the dust.
While AI in many fields is considered a serious matter, it has a lighter side as well. From algorithm-powered entertainment to websites aimed at creating unique pieces of art, technology is fun and accessible.
Interest in the Midjourney AI image from text generator grew by 10001%, with over 750.000 searches monthly in 2022.
Netflix, the global streaming service, is using AI, among other things, to determine which images have the best engaging impact on the platform's users. The entertainment provider is already famous for the plethora of movies and series, now also for the skillful implementation of algorithms. The streaming service harnesses the power of AI to lower costs, shorten time-to-market, create AI and machine learning-powered recommendation systems based on viewer preferences, and enable a remarkable level of personalization.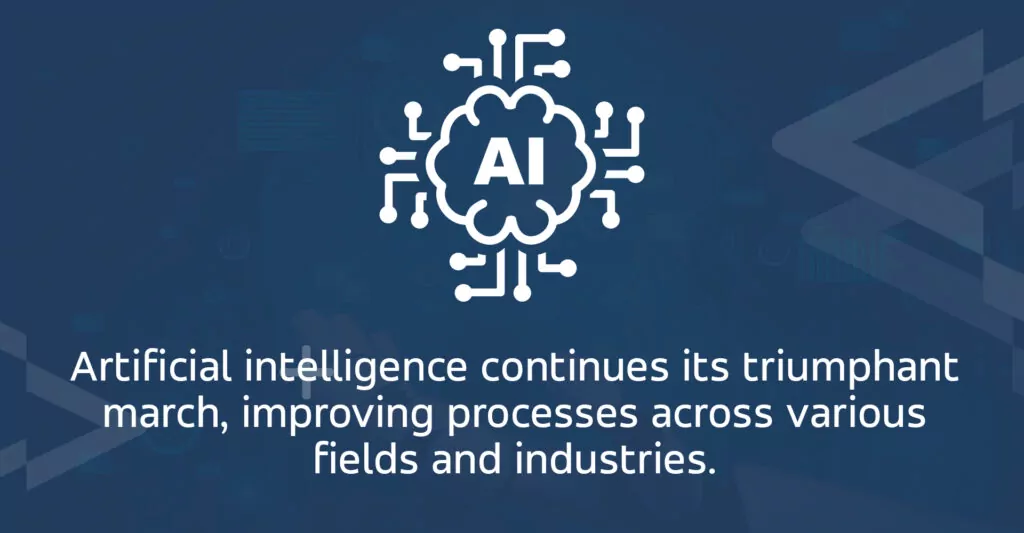 Statistics on artificial intelligence reflect the ongoing digital revolution
While it's the algorithms that work on numbers and not hunches, we humans can still make assumptions and predictions based on our feelings (until an AI left without supervision could turn rogue). The feelings, however, are vastly optimistic for the AI field – even considering a decrease in potential funding due to the crisis, startups building artificial intelligence solutions will continue to deliver new algorithm-powered answers to old challenges. And AI will continue to change the world as we know it.
Interested in becoming a part of the change and powering your operations with AI? We've got you covered – grab your copy of our ebook on artificial intelligence, its essence, adoption examples from various industries, and a 101 on how to actually start your own AI project. Or drop us a line and ask away about what concerns you about AI in your industry – we're here to hear you out and respond to your questions and concerns.
Sources:
State of AI Report
IBM Global AI Adoption Index 2022
The art of AI maturity
PwC 2022 AI Business Survey
Artificial Intelligence Index Report 2022