You have an idea for a web app project, or maybe an already existent service that needs further development. At some point, you decide to search for a company specialized in building great online products.
Look no further, it's us.
Wouldn't it be great if the search would be so simple? You type in your browser, "the best web development company" and there it is, just by waving the magic wand – the best of the best, the right choice for you.
Regrettably, that's not how it works. But fear not, we're here to help you and make the pursuit as straightforward as possible.
What to check for when choosing the best web development company?
Be prepared to ask questions. If you already know what features you'd like to include in your web app, ask the provider if they have experience in building such. Ask about the process, product's UX/UI design, testing, and what technology will be most beneficial for your project.
The process
Do you already know what kind of product you need? Web developers will know HOW to build it, but first, you need to define its scale. Similarly, as you'd choose means of transport – at this point, we know that you're done walking. Depending on your needs (and budget) you'd visit different places to buy a scooter, a bike, or a car. Sure, some large-scale software houses still do smaller projects, but the other way around it may not work as intended.
The client-oriented process is what distinguishes the best web development companies from the good ones. We not only allow, but strongly encourage clients to participate in the creation of their products, from start to finish. Our experience shows that the more welcoming the company is for the client, the higher level of engagement can be achieved. This results in smoother, more efficient and satisfactory cooperation for both parties.
Again, ask questions. Inquire about the company's transparency, how do they estimate, how often do they report issues, how often can you get in touch, what kind of audits they propose. Just be prepared, some, like us, will ask questions back. We need to understand you and the great idea you wish to bring to life with code, as well as the objectives behind it. Yes, we're pretty good at web apps development, but you don't become a leader by being a one-trick pony. We excel also at treating our clients the way they deserve to be treated – with honesty and transparency, leaving space for insights and some necessary criticism. Web apps development goes way outside the code when it comes to understanding clients.
Software development is usually a long-term relationship. By long, we mean months or even years rather than days. Surely you'll agree, it's good to get to know each other better before going head-first into cooperation. What's crucial, great web development companies will be glad to introduce you to their team. It's not just a matter of casual small talk, but an opportunity for you to assure that the service provider won't assign a team from e.g. a different time zone. Working with a familiar team that keeps its composition contributes to your apps' development. Sure, over time, the team members may change, but as a regular in the meetings, you'll be updated regularly. In case a service provider refuses to include such an introduction, alarm bells should ring.
The budget
Speaking of budget, web development companies offer various models of payments. While some still put an exact price tag on their products, others provide flexible pricing models. The second option means that you will be presented with a precise summary of what you are paying for as the project progresses. Transparent and understandable, as you pay for the number of hours "burnt" on building your product. Furthermore, building your product requires a structure based on tools and methods that streamline our work and give you control over it. We work in sprints, dividing the workload into manageable tasks, keeping our eyes on the prize. When planning the development of your app, we estimate the total costs to give you the big picture. Knowing the estimation and having access to sprints, you exercise control over the process.
The team
Does their team have the right skills? Web development is a field where constant learning and development is necessary to remain relevant, keeping up to date with the newest technologies. The company to build your product needs to provide you with the appropriate tech stack, securing its construction from becoming obsolete or tedious to maintain. Take a look at the company's website and check the feeling it gives. As some say, the shoemaker's wife is the worst shod, but it's hard to entrust a web development project to a company with poorly made own services.
Let their actions speak for themselves and check the company's portfolio and use cases. You might be surprised how many of the online products you're familiar with were built by the company you're considering for your project. Keep in mind that the best web development companies are responsible for projects for global enterprises and state institutions, many of which do not wish to be mentioned by name on client lists. Don't be surprised with mysteriously sounding clients mentioned in case studies – some prefer to remain anonymous.

The tools
What does cooperation with the service provider look like? Inquire for details on how you, as the ordering party, will be treated during the development process. The best practices cover establishing a point of contact to liaise with you and the company, determining contact tools and time frames to keep you informed. Save yourself some nerves and avoid companies known for being distant or secretive.
Does the company grant clients access to tools like YouTrack, or other collaborative apps, enabling smooth communication, problem-solving and increased productivity? If not, you may risk being kept in the dark, which might affect the final outcome. The company you entrust with building your product should be prepared to deal with possible issues resulting from different time zones, remaining reachable, successively updating you on the projects' progress. Using video conference apps improves communication, as video calls give more mutual understanding than just text updates. Whether it will be weekly planning or retrospection, you'll have the opportunity to talk about your project in real-time.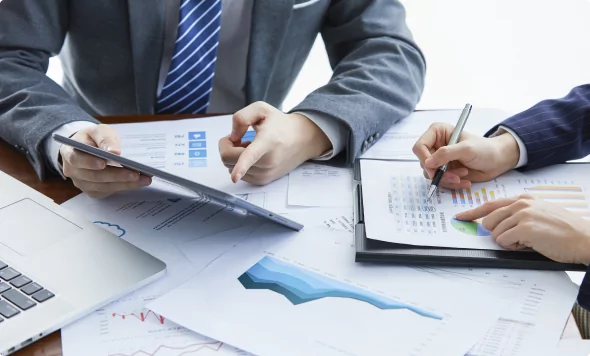 1 hour free consultation
Have something specific in mind? Don't hesitate to contact us for an initial conversation!
The quality
When looking for a web development company, check not only for the product-building side of cooperation. Ensure that the company offers comprehensive services, including in-house testing. Quality assurance and quality control are necessary in software development, helping prevent delays and money loss throughout the process. A quality assurance strategy presented to you at the initial stage of cooperation is a good indicator of a professional approach to web development.
But wait, there's more!
The expertise
Does the company you consider taking care of your project share more on their work and expertise, outside their portfolio? It is regarded as a good practice among web development companies to share knowledge, both internally and externally, before a greater public. Check if the service provider you're interested in hiring contributes to the community – an expert blog, lectures given during meetups, or maybe other knowledge-sharing channels? Speeches given not only prove their knowledge, but often show the ability to highlight crucial topics in a language understandable for non-tech people, including business partners.
Having gathered answers to all these questions, you may already be able to formulate an outline of your expectations towards the web development company best suited for your product. If you're not yet satisfied, you can carry on with your research.
For example, is the company ISO-certified? Compliance with ISO 9001 and ISO 27001 standards is not a must among web development companies, but it does prove qualities important from the clients' point of view. Transparency, standardization, fulfilling timelines and delivering high-quality, safe, and efficient products – that's what you can expect when choosing an ISO-certified web development company.
Where to search for the best web development companies?
There are rankings and then there's Clutch.co. The website offers in-depth information on how to cooperate with web development companies based on B2B research and client reviews. Not sure about online reviews? Opinions on Clutch.co couldn't be further from puff pieces appraising service providers just for their good looks. The reviews and ratings are a good indicator of the company's quality and reliability, backed by feedback from business partners. A well-curated profile shows detailed information on the company's scope of expertise, cost and portfolio, giving a comprehensive overview of the web development potential.
If one source is not enough, perform a double check and visit another independent hub to X-ray the company you'd like to hire. You don't need to search very far, as analytics services like TechReviewer and TopDevelopers are at your disposal.
Is it hard to choose the best web development company?
We're not going to lie – it may be a tough nut to crack. Just like finding the right nanny to take care of your child, it takes more than just the formal skills and a great resume to make a great match. Something needs to click.
If you're intrigued but still not quite sure if we've got what it takes to make your project flourish, contact us and book a one-hour free consultation. There's no fine print – we'll discuss your idea and our tech stack to check for common ground. It's your call if there'll be a second date.
And if by any chance you're a developer looking for the best web development company to pursue your career in building great products, we've got you covered as well – we're hiring! Check the open positions and join our team.