When a business faces a lack of IT resources, the solution looks clear – get a software development company onboard or expand/create your own in-house IT team.
And whereas advising on choosing between these two options could look like shameless self-promotion from our side, we want to focus on what comes next after a company opted for cooperating with a software house instead: What types of cooperation are there to consider? What are the pros and cons of each? What model will be more beneficial for your project/team?
Several factors need to be considered while choosing the model of cooperation between an IT services provider and a client:
The project scope
The degree of the client's involvement in project management
The degree of the client's involvement in technical decisions
Budget
These factors influence how close the client is ready to cooperate with an external partner, and thus define the levels of collaboration from shallow (e.g. body leasing) to hand-in-glove ones (e.g. custom IT solutions). Let's take a closer look at the most common ones:
Staff Augmentation / Body Leasing
This model of cooperation allows you to add individual members to the existing IT team for a specific need/duration (a certain project, busy season, infrastructure configuration etc.). Temporarily employed software developers work along with an in-house team, complementing their expertise and skills, dividing the workload, and bringing new knowledge on board.
Pros:
Staff augmentation works as a quick patch: you need more hands – you get them. You save time and money on searching for IT specialists and going through the never-ending recruitment process.
It's flexible and non-binding (it's easy to release the temporary staff when there is no need for their services), and thus it's handy when some urgent unpredictable needs arise, IF(!) you know exactly what you want to achieve and how.
Precautions:
There should be everything settled for temporarily employed staff. You should provide clear goals and requirements and manage individual stages of their work.
Outsourced staff might still need some training (to fit the team or get the project specifics).
Staff augmentation and body leasing become costly and unreasonable in the long run, so this model suits short-term projects better.
Not every project demand could be solved by simply adding team members. The idea of 9 pregnant women making a baby in one month sounds great but it doesn't work.
Some projects need their time and a more holistic approach.
Project Outsourcing
In contrast to staff augmentation, this model of cooperation entails outsourcing the whole IT team needed for a specific project, instead of just hiring individual software developers. This way the client gets a full range of services needed for a more demanding project – not only developers but project managers, QA and UX/UI specialists etc. Merging the client's and the outsourced team is also possible and can bring added value in terms of knowledge sharing and broadening the team's horizons.
The software company takes more responsibility and provides a wider scope of services: from team setup to its operations support, while the client stays first-hand involved in the process. It's a good option if you need a reliable partner in building your core products and when you want to be partially involved in the development process.
Pros:
This level of cooperation involves more responsibility from the software development company, which makes the process of IT project development less heavy resource-wise and more stress-free for the client.
The client saves time and money not only on recruitment but other HR activities too (organising a team, training, team building etc.).
The client knows what and when to expect in the end, as the project outcomes and delivery deadlines are something that the software company commits to early-on.
Involving an externally managed team with a wide pool of professionals can bring new ideas and perspectives on your business.
Precautions:
Project outsourcing is less flexible than staff augmentation as both parties commit to fixed terms of cooperation from the beginning.
Even though the client stays first-hand involved, he might have less control over certain decisions. That's why finding a trustworthy IT partner is crucial here and it usually requires more meticulous research and verification from the client. Of course, you can run trial sprints or ask to develop a proof of concept first. But the path of trial and error can be really expensive and time-consuming.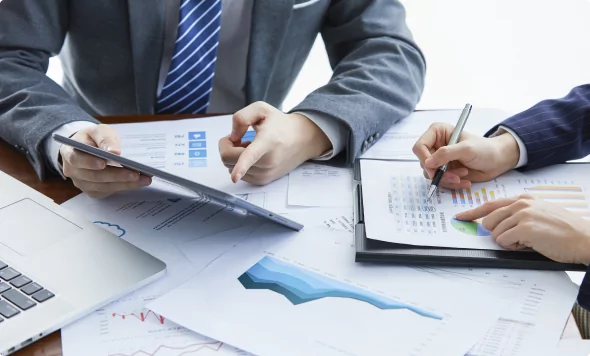 1 hour free consultation
Have something specific in mind? Don't hesitate to contact us for an initial conversation!
Managed Services / Managed Delivery
As the next level after project outsourcing, managed services entail entrusting the whole system to IT partner with full responsibility for it. The client doesn't need to dig into the project, as the software company takes care of requirements management, software development, QA, and operations.
This model suits well non-core but massive projects that distract businesses from their main domain, and thus are better to be outsourced long-term.
Full-Cycle Custom Product Development / Custom IT Solutions
Within this model of cooperation, the IT partner commits to develop your business idea and bring it to the market. You get the full range of services, starting from business consultancy, advising on tech implementation and developing a proof of concept, and finishing with rolling the ready-made product to the market, maintaining and constantly approving it.
Here traditional outsourcing models wouldn't work, as we are talking about the client's core business projects, thus the client's involvement is the key. Both the client and the IT partner cohesively work on the project goals as one team.
From our experience, the greatest products that become their industry breakthrough come out of this way of cooperation. Thanks to combining analytical and consultancy skills with a full-cycle software development we can create top-notch individually tailored solutions for various exciting projects and ideas of our clients through this model.
To sum up
The exact names of the models of cooperation or some minor terms may differ from company to company, but we hope this overview will give you a general idea on what is what, and what will work better for you.
From our experience, we can say that very often levels of cooperation naturally transform from more shallow to more advanced as the clients' trust grows with time and they feel more and more comfortable to transfer more responsibility to the IT partner. This makes sense if you're not on a tight schedule and have time to try waters with staff augmentation in the beginning and then gradually develop the cooperation to something bigger. However, in reality, due to a tough cooperation time in IT project is a luxury that not many companies can afford. That's why it's crucial to choose the right method of cooperation (and the right IT partner, respectively) and develop the necessary trust from the beginning.
If you want to hear more from us on this topic, please, let us know in the comments below. We are also happy to talk more specifically on your project if you are looking for an IT partner at the moment. It's easy and no strings attached – just drop us a message here.