We are witnessing unprecedented changes taking place in various industry sectors. There are two main factors contributing to this situation, namely the massive increase in the amount of data gathered and the expanding computing capacity (I could add the pandemic to the list, but it's becoming slightly boring, isn't it?).
They influence not only the way production processes are performed but also help companies to manage their resources in a better, more organized way. The fundamental aim though is to achieve greater efficiency. By what means can it be accomplished?
Industry 4.0 definition
The First Industrial Revolution was connected with the invention of the steam engine, the Second – with the combustion engine and electricity, the Third – with the advent of computers and production automation. In contrast, the Fourth, taking place now, is dominated not by machinery but a rather intangible resource, namely by the internet.
In consequence, computerization of production and artificial intelligence use allows for better management of enterprise resources and production planning. The collection and subsequent (or real-time) analysis of huge amounts of data translates into even greater optimizations. A lot of the tasks previously performed by employees are taken over by machines. Ultimately, in the long run, machines will make human decisions at the majority of production stages.
Continuous progress analysis has become possible thanks to the wide use of mobile connectivity to transmit data from – and between – machines and devices. We refer to this process as IoT – the internet of things.
Industry 4.0 – why are we talking about it?
Although the concept of the 4th industrial revolution isn't new, nowadays, we can observe an increasing interest in it. There's no doubt that the phenomenon was (and most probably still is) greatly influenced by the pandemic and the restrictions imposed. The management of manufacturing companies has begun to see in production computerization and automation a chance to survive the crisis.
Thanks to the contribution of IT, in particular, artificial intelligence, the internet of things (IoT), machine-to-machine communication, analysis of data generated by humans and machines (big data), and augmented reality, it has become possible to better manage company resources, accelerate a variety of processes, as well as perform tasks that would otherwise be impossible to execute in the imposed sanitary conditions without technology, such as remote factory acceptance testing. It appears that some changes, although forced by external circumstances, have shown both the company management boards and employees alike that technology has the potential to do good daily.
Whom does Industry 4.0 apply to? Who can afford it?
The possible improvements apply to virtually every sector of the production industry, such as FMCG, fashion, automotive, pharma, chemical, oil & gas, and construction. The spread of Industry 4.0 is one of the key drivers of world economic development today.
And yes, high costs have always been the biggest boundary in implementing state-of-the-art technologies. However, everything shows that a great deal of the Industry 4.0 solutions have the potential to reach more and more companies, among others the SME sector. This is caused by a growing number of providers who offer solutions that are flexible and scalable. For example, an augmented reality platform, such as nsFlow, allows smaller companies to use prevalent devices instead of forcing them to buy costly equipment at the very beginning.
When it comes to Industry 4.0, any investment in the newest technologies has the potential to return quickly. The key areas are production processes, employee training, and management, data-based decisions in particular. Even a seemingly small change, such as remote consultations with experts taking advantage of AR glasses, can considerably cut the cost of machinery service and maintenance.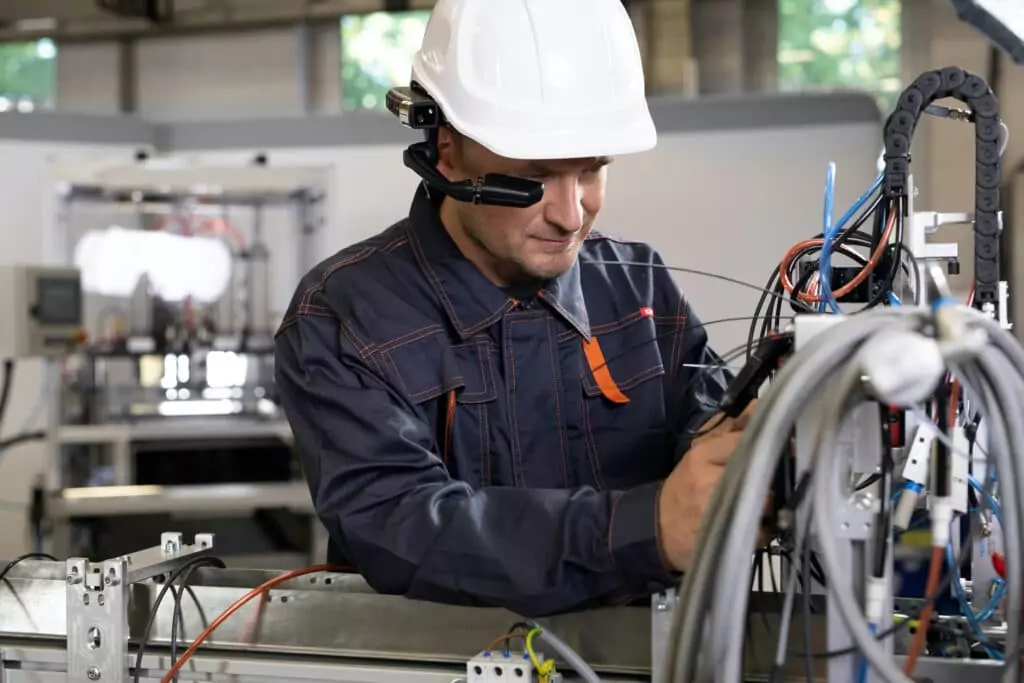 There is no way back
Initially, this part was to be called The pros and cons of Industry 4.0. The thing is, though, we shouldn't weigh up whether we should invest in digitization or not. It's quite clear that it is the only possible scenario for manufacturing companies to remain competitive in the market and go with the times.
Just have a look at the benefits of a diversity of Industry 4.0 solutions which make this revolution pay for itself quickly:
time and cost savings – on training, machinery inspections, or energy consumption/generated waste
increased revenues thanks to e.g. task or training automation
increased efficiency and production flexibility – algorithms help to make more informed decisions, process automation using reinforcement learning, production planning using predictive models
improved product and service quality, for example, when AI-powered systems verify the tasks performed by employees and the end product properties
improved employee safety when systems warn them of any danger at the production line or the tasks that are performed wrong and may lead to adverse consequences
efficient knowledge management – standardized onboarding and training, company's know-how is easily accessible and not stored in the head of experienced employees only, paper manuals are no longer needed
minimized risk – digital twins of real machines, visualization of machines in the target factory, predictive maintenance of machinery, algorithms assessing the quality of performed tasks
being ready for unpredictable circumstances – technology helps companies to adjust way quicker to any external changes when they take place and even predict them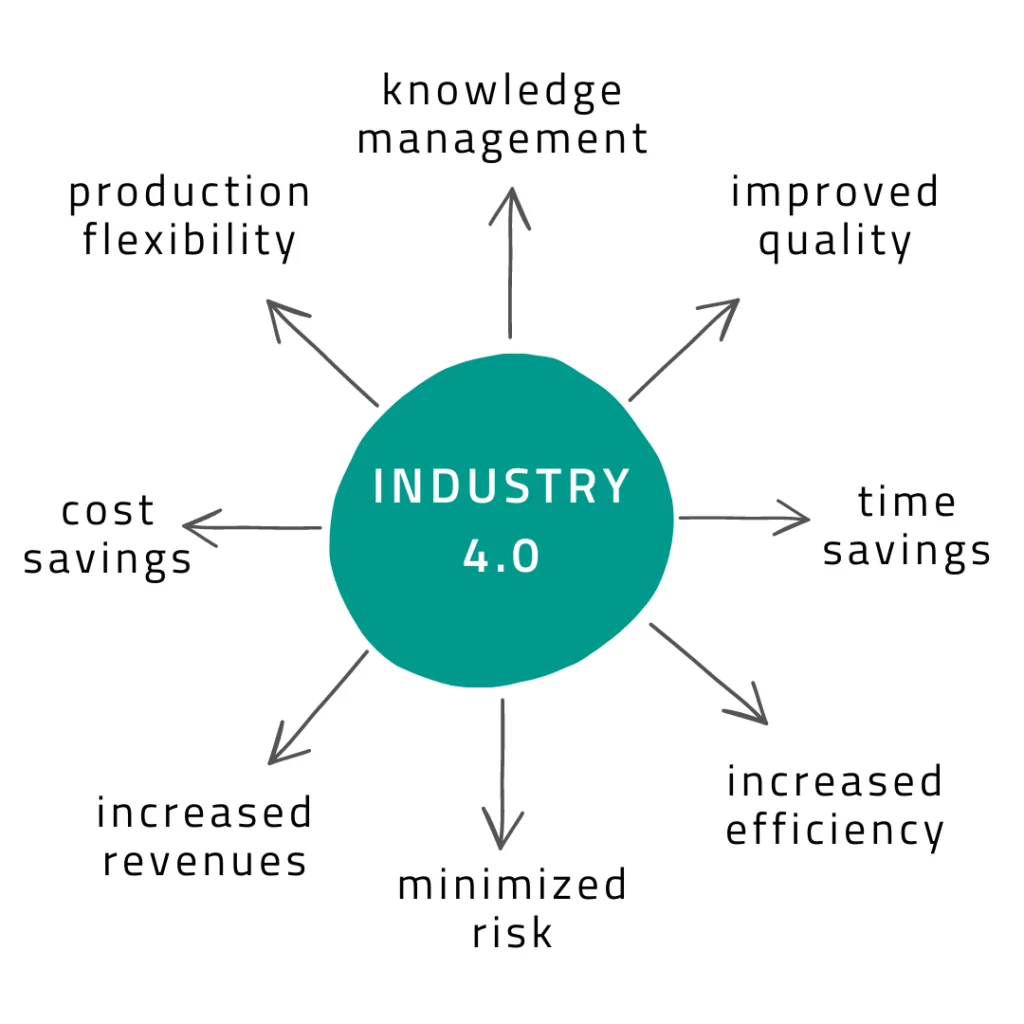 However, there are some aspects, we could call them disadvantages, we should consider beforehand. The main one is the costly initial stage (entry barrier) and the lack of staff – or their unwillingness – to keep pace with the changes. Your employees may feel unprepared and worried that you plan to replace them with machines and algorithms. So, it's crucial to support them in the process – providing training and exhaustive information.
Keeping all the above gains of Industry 4.0 solutions in mind, we're also aware that everything new and unknown may cause uncertainty and sometimes even resilience from both managers and employees. Thus, if we want to reap the benefits of technology in industrial production, we need to focus on the human factor as well, since employees are your most valuable asset.
Get to know how Industry 4.0 solutions can speed up processes in your company. Try our free consultation and find out what we can do for you.