NeuroSYS got the nomination as one of the top AI companies. It's a real success in the software business because this top list is a result of effective research by the TechReviewer.co team. It's a leading directory for AI service agencies which brings to light and chooses the best technical reliable partners for their clients.
TechReviewer.co makes such research in different IT categories (web and software, mobile apps, cloud computing, digital marketing, etc.). They analyze different specific metrics and feedback, reviews from customers and professionals.
NeuroSYS has earned such an honorable mention with their strategic approach to projects and a broad experience in the Artificial Intelligence business.

Moreover, NeuroSYS has been nominated as an example of modern, efficient management and service. The company takes advantage of the newest technologies and offers complete development solutions that help their partners to save time and money and to be ahead of the competition.
Focus on Artificial Intelligence
AI has always been deeply rooted in our DNA, starting from the very name of our company. However, what makes us different from other companies offering such solutions is that we're not using off-the-shelf-tools, which can be a remedy for simple projects. To solve advanced problems and take our partners' business to the next level we develop bespoke AI solutions. To achieve that, we've got an in-house research and development team, still a rarity nowadays.
A quick look at NeuroSYS
Since 2010, we've been delivering custom IT solutions in a predictable way. Our team might have grown considerably (almost 100 people on board!) but we're proud to have kept a family-like, informal atmosphere.
We specialize in web development, mobile development, and needless to say artificial intelligence – particularly machine learning and augmented reality. We offer a comprehensive range of services for streamlining product development starting from the ideation stage to making it market-ready:
First and foremost, we don't just focus on IT solutions – we build partnerships. With this value in mind, we successfully completed over 100 projects for various businesses: from Fortune 100 and Big Pharma companies to niche industrial firms and startups. With our brands Samelane and nsFlow we help companies to adapt to digitalization and improve their internal and external processes with new technologies.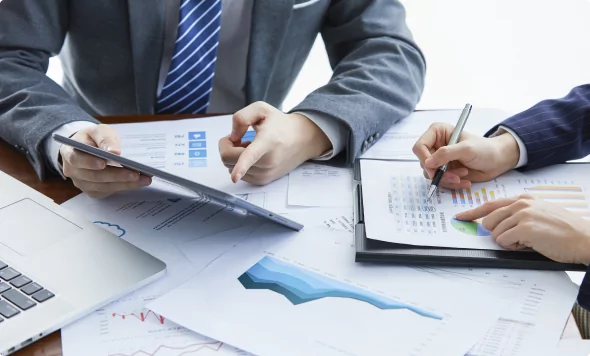 1 hour free consultation
Have something specific in mind? Don't hesitate to contact us for an initial conversation!
How can Techreviewer help you choose a development company?
The platform helps you to explore and compare software development companies located all around the world. All of them have been carefully selected based on various specified criteria. If you've got special requirements, such as high availability or maximum hourly rate you're willing to pay, their search engine will surely help you find a perfect match.
If you're looking for top-notch development providers only, then browsing the top companies lists in your area of interest will most definitely be helpful. Like the one we're proud to have been featured in recently.
PS
Have we already mentioned that we've been also featured in the Top IT Services & Consulting Companies list created by DesignRush? We recommend to have a look at the ranking as well!