The real question here should be: is my company ready not to take part in digital transformation and face the consequences of such a stance? It's hard to overlook the fact that firms, regardless of industry, become increasingly dependent on technology. According to Statista, by 2023 digitally transformed companies will contribute to more than 50% of global GDP. And that's the natural (sic) way of things we have no other choice but to accept… and adapt to.
Do I need digital transformation?
But first things first, you have to ask yourself a question: do I need digital transformation at all? Since the aim of DT is to deliver greater value to customers, it's hard to think of a business that wouldn't benefit from digitalization. No matter how you operate – B2C or B2B, locally or internationally, traditionally or as an e-business. Neither is it relevant whether you belong to the healthcare, banking or food production industry, or hire 100 or 100k employees. Whatever company size or sector you're in, digital transformation will benefit your business. However, it's important to understand that the need of DT doesn't always equal to being ready for it.
Factors to consider before deciding on digital transformation
There is no "one fits all" answer when it comes to any company shift. We've picked the most important aspects to take into consideration, when thinking about digital transformation. Based on the subjects expanded below you will be able to say yes to digital transformation (or run away).
Number of employees
We believe that no matter how many people you hire, you can always benefit from introducing digital tools and methods. However, if you have just a few employees, the game might not be worth the candle. At least for the time being, because the cost of digital transformation solutions holistically is still relatively high. Indeed, DT pays off quickly, but the quicker the more people and processes it pertains to. That's why the benefits become particularly visible in large corporations, manufacturing companies, etc.
Costs
You shouldn't carry out your transformational project at any cost, that's for sure. In the first place, you need to ensure your business continuity. Thus, even in large organizations, you don't have to start off with a bang. You might consider the digitalization of one process at a time. For starters. Then, the group of employees it applied to can become the apostles of change and which would make the job easier to carry on.
This approach works for both large and smaller companies. In the former, you could focus on downtime reduction that takes place in the effect of machinery failure. When it comes to the latter, tackle a core process, digitalization of which would result in great financial benefits.
Type of processes
Next, you might want to assess your business processes and identify those, which can be improved and optimized. Raise some vital questions, like: Are your workflows easily disturbed and do silos hinder company development? What do your clients say about your products and services, and the delivery process? How about your employees, are they satisfied with your onboarding process and career paths? What are the most mundane tasks they have to deal with and frequently complain about? Which tasks are most error-prone?
When you know the answers, it's easier to decide where to start the course of digitalization. Bear in mind that it doesn't always have to be one of your vital processes. Sometimes it's better to pick low-hanging fruit which is more likely to succeed and will pave the way for further transformations. To provide an example, we've developed a system that detects whether workers wear masks or hard hats for one of our automotive industry clients. This relatively simple undertaking has opened doors for more sophisticated digital transformation projects involving production.
On the other hand, if you sell handmade products, the production process probably shouldn't be automated. As the handcraft seems to be the core of your business and the unique value of your goods. However, you can still think about automating other processes – orders, logistics, waste minimization, etc.
Employee churn
Does a high employee churn trouble your business? Do you spend too much time training the new ones? Do your employees perform their tasks in a complete opposite way because they were trained by several different experts? Does your HR department have problems keeping up with recruitment needs? If you answered yes to these questions, digital transformation can bring the solution and work magic in your organization.
HR process digitalization can offer solutions to all the above issues – improve employee retention, training new hires faster and more effectively, and standardizing knowledge that is shared. How is it feasible? First, it is worth it to take care of your employees, so they can develop, feel valued and important. It can be done with tools designed for employee learning and development ( have a look at our learning management system Samelane) or platforms that provide support in the daily tasks, such as step-by-step instructions in Nsflow.
On a side note, we observe that human resources is a great area to start your digital transformation journey. Your employees become familiar with digitalization and see that it can be okay. At the same time, you don't touch on critical areas which could be risky.
Competitors' moves
When you run a company, you surely keep a weather eye on your competition and adjust your business strategy accordingly. How does their offer change? What tools do they use? How do they communicate with their customers? Is their management structure changing? How do they promote their products and services? And finally, are they transforming digitally? If they are, there's no time to waste.
The reason is simple. As soon as your business rivals complete the transformation, it will be really hard for you to get up to speed and remain competitive in the market. They will produce faster thanks to process optimization, take care of the customers better, offer more attractive prices due to automation, and provide more flexibility in terms of their offer.
Another thing is that there are back-office, production processes that you aren't able to sneak a peek at. Then you have to focus on the outcomes, such as same-day delivery, and work on operations that can give similar results or improve your services in a way (make them cheaper, of higher quality, etc.).
Your attitude
Last but not least, no transformational project can be successful without a management board believing in its positive results. You have to be convinced it is the right path and share your enthusiasm about what is going to happen. This way your employees will be more open to the idea and will trust that you know what you're doing. If you didn't want to transform, why would you do it then?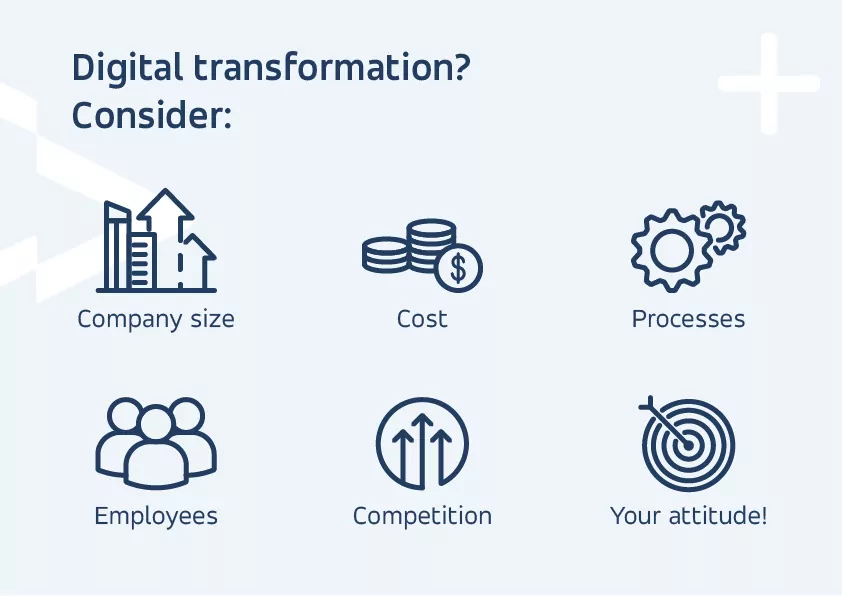 How to prepare for digital transformation?
Strategy
Digital transformation won't happen in a day. The process should involve all crucial areas – customers, employees, culture, operations, and technology. Only then the shift is complete. Since it is so complex and multistep, make sure you've developed a digital transformation strategy. Ad hoc activities can be risky and, needless to say, costly. And above all, DT should fit nicely into your overall business strategy.
Measurement metrics
To plan digital transformation and evaluate if it was successfully executed, you will need to assess the current state, taking into account:
business model and income structure
technical/IT environment
data gathering and usage
digital tools already in use
effectiveness of the production processes
management processes
process bottlenecks
back-office work
employee productivity
HR processes – recruitment, onboarding, learning & development, offboarding
All the above operations need to be well described and evaluated. Through comparing before and after process measurement metrics you'll know if your digital transformation was successful.
Goals
You have to know your long- and short-term goals, the problems you encounter, and possible solutions based on information technology. If you're not sure how to respond to those questions, we recommend checking out our free of charge consultations.
PS We invite you to visit our blog regularly, as there is an article on DT strategy coming soon.
Communication
Before you start transforming your operations, you need all your employees to be on the same page with what's going to happen. They have to know why the company is shifting, how it will happen, what's the timeline for that. Your team will also want to know what is expected from them, and how it will affect them. You need to communicate progress regularly, so that they can feel they're a part of the change. Let your employees know about small successes, which are as important as the spectacular end result.
How to communicate digital transformation to your employees?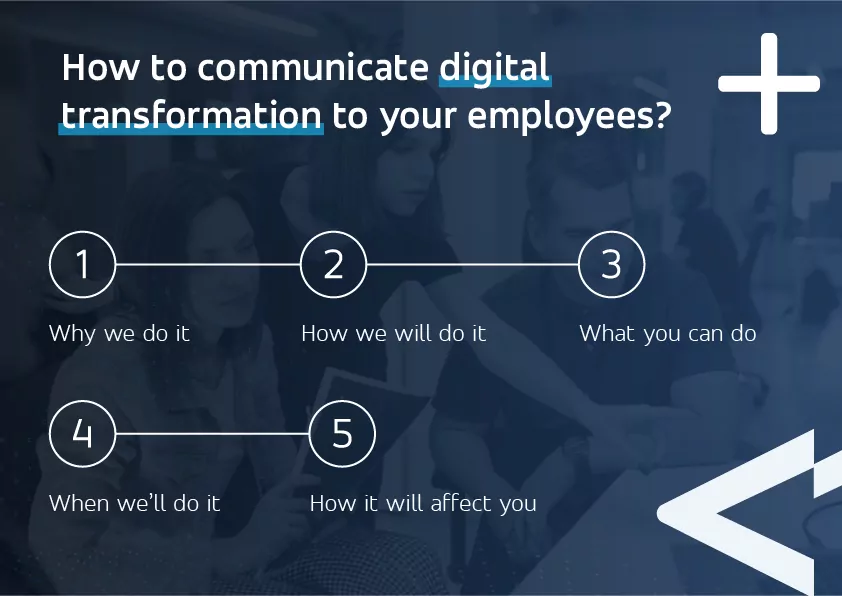 A common fear concerning digital transformation is that the company wants to downsize. Thus, your employees need to understand that digital solutions are there for their benefit – make the work easier, help them avoid mistakes, and free them from the most mundane tasks. So that they can focus on self-development and the company can grow to the sky.