Digital transformation is the process of driving organizational change through digital technology to modify existing and create new processes and services. Reimagining business in the times of the Fourth Industrial Revolution (also known as Industry 4.0) is associated with facing challenges of incorporating artificial intelligence, robotics, blockchain, process automation and other technologies into companies' operations. Recent events resulting from the COVID19 pandemic forced companies to adopt a wider range of digital solutions to keep operations' flow possibly unaffected.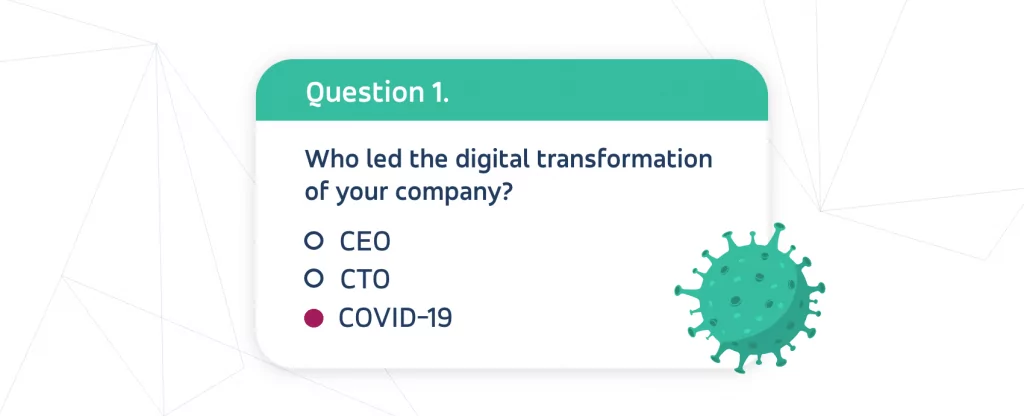 Why does digital transformation matter?
Utilizing the most recent technologies is neither a whim nor a fantasy, but a necessity to remain relevant in the modern world. Taking into account how fast the transformative changes occur and what the newest inventions are capable of, it's becoming harder and harder to gain the industries' lead. Instead, enterprises make all possible efforts to keep up with the ongoing changes happening at an unprecedented pace.
Keeping up with the growing demand for streamlining processes with automation leads to creating new, efficient infrastructure. The shift from out-of-date technology to digital business models fuels the changes taking place globally. Direct investments into digital transformation until 2024 are forecasted to reach nearly USD 8 trillion.
What are the benefits of digital transformation?
There is no exaggeration in saying that digital transformation disrupts all industries. Digital business transformation leads to fundamental changes in the ways companies operate by providing a range of benefits.
Increasing profits
Digital transformation is a cost-saving and revenue growing long-range strategy. 80% of leaders across transforming companies declare improved profitability due to the successful digitalization of their organizations. Including digital solutions equips employees with better tools and more accurate training, which translates into improved productivity and revenue. Companies using learning management systems (LMS) record noticeable growths in customer satisfaction and faster rollouts of products and services.

Improving customer experience
Enhancing customer focus with the use of digital solutions enables a better understanding of experiences and needs. Simplifying and improving points of interaction, companies benefit from better relationships with customers, along with better customer retention. With the digital revolution growing more powerful, traditional businesses adopt new strategies, including leaning towards e-commerce, modernizing the company and enabling the Internet of Things.
Improving resource management
Digitalization of resources and assets brings together company reserves in one place. Consolidation of assets supports integration and providing a consistent experience, as well as reducing waste and misplaced resources, both material and human. Tools that gained importance during the COVID19, such as business communications platforms (e.g. Teams), enable online collaboration and delivery of work in environments not adjusted to remote work before.
Enhancing data collection and visualization
Gathering, structuring and analysis of companies' data arms business with new tools. Turning unstructured data into valuable insights to be used in further improvements of products and services. A set of digital tools supports companies in tasks requiring data collection, from gathering customer opinions to employee feedback on recruitment and onboarding. Companies use survey tools like Google Forms, Typeform or Formstack to gain insights and capture thoughts valuable to the business. Solutions such as augmented reality and the digital twin concept are used in visualization of machinery state and production lines, combining human expertise with digital solutions.
Remaining relevant
Despite Netflix still offering subscribers of the DVD subscription plan the option to rent movies on CDs, the streaming service is a model example of how turning digital can save the business in a dramatically changing environment. As the widespread internet access changed the habits of film fans, the company recognized the need to evolve and adapt.
What does a digital transformation framework look like?
To successfully tackle the challenges of digital transformation, companies must establish a digital transformation framework. This tool is a roadmap guiding all departments and divisions undergoing a transformation in line with the general business assumptions. When designed and implemented correctly, the framework ensures a holistic and comprehensive approach throughout the company, covering all business areas and processes.
A digital transformation framework should be adaptable to the company, divided into logical steps and cover issues such as:
Digital transformation of the enterprise

Digitizing operations

Building an improved strategy of products and services

Applying digital solutions to the customer journey
Frameworks may differ amongst themselves, but to serve the assumed benchmarks, certain steps cannot be omitted. Revising the digital business strategy, staff management and process improvements with the application of technology and data analytics leads to outlining a framework. Taking into account a customer-centric approach, simplicity, opportunities and challenges, a framework for achieving the set objectives can be designed.
Examples of digital transformation in manufacturing
Traditional manufacturing leverages technologies to reach beyond previous capabilities.
Boosting products
Manufacturing facilities improve the production process with applied technical solutions. Streamlining processes includes the efficient monitoring of maintenance, performance, forecasting demand for components and more precise elimination of faults and glitches. Smart manufacturing is all about a flexible technical workforce, data analytics and ongoing adaptation to ongoing changes, processes in which AR tools such as nsFlow become essential.
Lean manufacturing
Improving production flow with digitalization enables waste reduction, increasing value and cost savings. As an addition to traditional workflows, innovations such as smart devices, digital performance boards and AR solutions support standard operating procedures. Using digital solutions reduces downtime and improves crisis management, fulfilling assumptions of lean manufacturing KPIs.
Predictive maintenance and remote support
Manufacturing companies adapting the concept of Industry 4.0 incorporate predictive maintenance systems to avoid breakdowns and production downtime by undertaking service and maintenance actions before parts wear out or malfunctions occur. Ongoing monitoring of performance and equipment condition with the use of sensor devices reduces the likelihood of failures and accidents. Tools like nsFlow and Remote Support streamline manufacturing processes through connecting field technicians with remote experts, providing convenient, safe and low-cost experts' support.
Mass customization
In order to stay true to the customer-centred approach, manufacturers employ digital solutions to fully address growing market needs, as on-demand manufacturing becomes more popular. While customers vote with their wallets and decide what they're willing to pay for, digital manufacturing answers the demand for product personalization. Customization trends span through various industries, with fashion and everyday electronics to name a few.
Examples of digital transformation in healthcare
Modern healthcare benefits from the positive impact of tech solutions, improving services and treatment.
Telemedicine
Distribution of medical services and information via telecommunication technologies gained importance in the times of pandemic reality we found ourselves in 2020. Providing care to remote patients with real-time communication became a necessity due to social distancing and restrictions.
AR & VR treatment
Virtual reality comes in handy in various medical usages, from a drug-free solution in pain management, planning surgeries, supporting the movement of patients affected by Parkinson's disease, early detection of Alzheimer's disease to supporting recovery in physical therapy. VR supports medical professionals in understanding patients' struggles, enabling "walking in their shoes", accelerating efficient solutions. The AR and VR market in healthcare is expected to reach USD 5.1 billion by 2025.
Wearable devices
The Internet of Things brought a new quality to the medical sector. The constant growth of devices supporting healthcare brought to the market items such as wearable defibrillators, sensors for stroke patients, smart contact lenses, early detectors of diseases such as Alzheimer's. Development of devices isn't restricted only to physical conditions – applications are believed to soon become a part of monitoring and assessment of patients with depression. The usage of IoT devices enables patients to become more independent of direct medical supervision while remaining safe under professional monitoring.
Still not sure how your enterprise can transform digitally? Drop us a line and find out more.
Read more:
Digital transformation in manufacturing
Digital transformation in healthcare
Digital transformation in banking and financial services
How to measure digital transformation