Nowadays, being a non-technical CEO is tough. A lot of decisions concerning IT solutions are a hard nut to crack. Modern companies, especially those meaning to break new ground, will at some point need a technical expert to make these decisions. Needless to say, the best choices at a given moment, taking into account all internal and external factors. Knowing that a stitch in time saves nine, it might be high time to hire a chief technology officer to support your company in daily operations. But how to do it right?
Don't want to miss our articles? Subscribe to our newsletter!
Finding a skilled CTO is no picnic. The fastest way of hiring for a C-level role like this, similarly to whole development teams, is outsourcing (more on outsourcing vs in-house product development you'll find in this article). But it also puts other benefits in the basket.
With on-demand CTO you pay only for the consultancy and support you need, the hourly rate most probably. There is no full-time commitment, which translates into the cost-effectiveness of the solution. Also, the remote option provides you access to a broader talent pool, which makes it easier to find a perfect match – according to the type of the project, tech stack, and your specific needs.
(Remote) CTO definition
Chief technology (or technical) officer is the highest tech position in the company. They focus on an organization's technological issues, support business needs fulfillment with technology, improve competitiveness in the market, and oversee a budget. Usually, a CTO reports directly to a CEO and board of directors.
The only difference between a remote CTO and CTO is that the former works remotely and not in your office. They might be located in a different city or country but don't have to.

Who might need a remote CTO
There are certain types of companies that might particularly benefit from hiring a remote chief technology officer. Let's have a look at some common examples:
a CEO building a digital product that doesn't have technical knowledge – a remote CTO will help them overcome limited expertise
a startup without experience – needs advisory on what technologies to choose and representation when looking for investors
a startup with an MVP – needs advice on the choice of tech for the final product and representation in front of investors
a company that has a major but temporary technical problem with a product or service – needs support in solving it but doesn't want to hire someone long-term
a company on the verge of digital transformation – a remote CTO plays an advisory role here and represents the team in front of the board of directors when it comes to technical issues
the company with its own IT team but no CTO – particularly when the team doesn't deliver or it needs a decision-maker/a visionary to improve the processes
a company that needs to hire people quickly due to e.g. deadlines resulting from contracts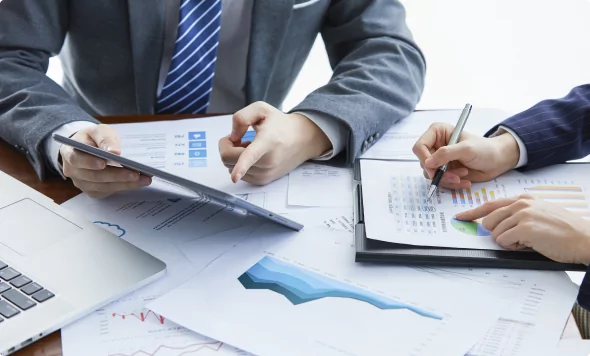 1 hour free consultation
Have something specific in mind? Don't hesitate to contact us for an initial conversation!
Remote CTO's responsibilities
There are certain tasks and responsibilities you can expect a remote chief technology officer will carry out. Some of the examples include:
being responsible for both your core product/service and internal IT needs
execute an end-to-end product development plan
advice on the most suitable technologies to use and any technical aspects of the project
define the architecture of the digital product
manage the product roadmap and prioritize features and tasks
guide your development team and evaluate their performance
represent you in front of the client/investor if there's no one technical in your company
optimize development processes and ROI in terms of systems and infrastructure
can work part-time when your product/startup is in its initial development stage – which is cost-effective compared to hiring a full-time CTO
Characteristics of a good remote CTO
A good chief technology officer brings together technical expertise and great communication skills. To solve technical issues in the organization they have to demonstrate the following skills and features:
strong technical background – programming languages, databases, data management, security
project management skills (Scrum, Agile) and strategic thinking
problem-solver – actively looking for the best way of tackling the issues
business-oriented – focus on aim and outcome
inspiring leader with great communication skills
experience in a variety of projects, preferably from different industries and taking advantage of different technologies

Pros and cons of a remote CTO
Like every solution, hiring a remote CTO instead of an on-site CTO has its benefits and disadvantages. Let's have a look at the crucial ones:
Pros
being a startup or a small player in the market you won't be able to attract talented and experienced CTOs full-time; only hiring a remote CTO grants you access to senior and motivated experts that will help you avoid costly mistakes or get you out of trouble
it is a way cheaper option to hire an experienced CTO with a broad portfolio of successfully completed projects; not only you don't have to hire them full-time but also you can look for specialists in rising markets
Cons
this point might have lost its importance in the covid era, however, a remote CTO might not be able to represent you in front of your investors/board of directors in person, especially when they're located on a different continent. If it concerns you, we'd advise you to take advantage of nearshoring
it happens that investors would like to have the whole team under one roof and not to outsource your CTO (in this case, maybe this article would help them change their mind?)
A skilled remote chief technology officer combines technical expertise and great communication/leadership skills. They take responsibility for the organization's technological issues and oversee a development budget. That's why finding one is not as easy as pie (quite the opposite in fact). If you need an experienced remote CTO on demand – we'll be happy to help. Just drop us a line!