Along with the global economic development that continuously blurs borders between countries, nearshoring has started to become a widespread practice among companies that wish to grow and digitize their processes straightaway. It is perceived as a safe option allowing to draw benefits from business partners' closeness – in terms of both distance and culture – and to become more effective. At the same time, we observe that companies decide more easily on nearshoring than on offshoring, because it's perceived as less risky and more convenient. Thus, we want to discuss the main aspects of nearshoring today – its advantages, potential problems you might face, deal with the widespread misconceptions, and indicate what else is worth paying attention to.
From this article you'll get to know:
What is nearshoring?

What are its pros and cons?

How to choose the right nearshoring partner?

Some of the examples of nearshoring
What is nearshoring?
The term was coined from offshoring – to differentiate it and highlight outsourcing proximity. Nearshore means moving business processes to companies located in nearby countries. "Nearby" means especially the locations that share the same or almost the same time zone and analogous cultural features, which facilitate communication and regular offline meetings, especially when major decisions have to be discussed.
Nowadays, nearshoring is particularly common when comes to IT services – application development, testing, and maintenance. And since the keyword is "near", each country has a narrowed pool of potential partnerships. The major nearshoring centers for companies from Europe, such as Germany or Norway, are Poland, Ukraine, and Bulgaria. Please keep in mind that cooperation between two countries equivalent in terms of labor costs won't typically be called nearshoring.
What tasks and processes are typically nearshored
As far as we're a development company, we'd like to focus on this area of nearshoring. We've noticed that some processes are more easily and eagerly outsourced than others. The first one is research and development, which is currently in great demand. Unconventional problem solving that makes use of the newest technologies pays off quickly and allows companies to gain advantage over competitors. Not many teams have experience in R&D, thus the demand for innovation isn't satisfied easily.
The second significant area is custom software and mobile app development. Building products and solutions that maximize effectiveness, increase sales, or create a new entity in the market is a challenging task. Demand for experienced teams of analysts, software engineers, testers, and system administrators is also significant. Especially if they form one team that can take responsibility for the final product or solution.
The third type of task is software maintenance, which means all the necessary fixes and improvements needed after the delivery, so the product can continuously grow. It is usually performed, but not necessarily, by the same IT company that took care of the development. It's worth adding at this point, that building a product or service is actually a never-ending process. Optimization, getting ready for any unexpected changes like increased traffic, adding new features – these are just examples of the work that will need to be done throughout the lifecycle of your system.
Nearshoring vs. nearshore outsourcing
The difference between the two terms might be vague, but let's try to clarify them. The composite term "nearshore outsourcing" is actually often used as a substitute for "nearshoring". However, both terms are not synonymous. Nearshoring describes moving entire business processes or even whole businesses to another country. For example, a company might want to nearshore its IT processes. Whereas nearshore outsourcing means employing a company from a nearby country to complete particular tasks or functions, but there is no long-lasting commitment. For example, a company might want to nearshore outsource their web application penetration testing.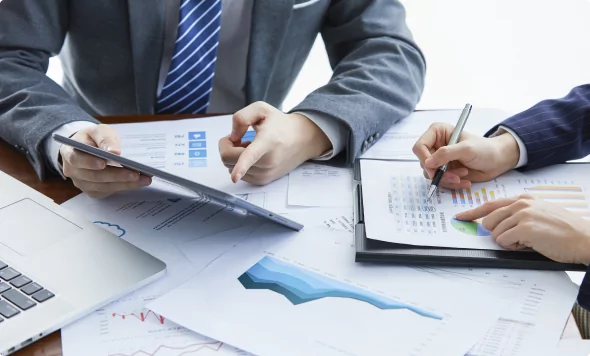 1 hour free consultation
Have something specific in mind? Don't hesitate to contact us for an initial conversation!
Advantages of nearshoring
You might wonder why we should even consider nearshoring if we can employ companies from the same country. Actually, nearshoring has quite a few advantages over regular outsourcing, from obvious cost-effectiveness to professional team availability and choice, impossible to achieve in your home country. Let's discuss the advantages one by one.
Cost-effectiveness
As much as we would like to avoid this topic, when talking about nearshoring we cannot not mention the economic efficiency. It results not always so much from the cheaper labor, but rather from the experience in the specific area, already well-developed processes, and practical knowledge of modern methodologies. Of course, if you considered employing your team, nearshoring means also the lack of recruitment and onboarding costs. With nearshoring, you basically can reduce the cost of your own mistakes associated with the expansion of your own team. It's way cheaper to reduce the external team than to keep your own employees during a few months of downtime.
Close proximity
Nearshoring isn't much different from cooperating with companies located in the same country. The only significant difference is probably the language used. Unlike offshoring, the same or almost the same time zone facilitates real-time collaboration with a development team that thus can become an integral part of your organization. It also results in cultural similarities and a comparable regulatory environment.
Access to professional teams
As we've mentioned before, the demand for IT services is steadily growing to the extent that it's even impossible to find a skilled team in your home country. That's why nearshoring provides a great opportunity to access a larger talent pool, with companies that have indispensable nearshore resources. Finding a team that is available and can start on the go can speed up the whole development process and consequently the time the product is available in the market. Being first may be a way to gain a competitive advantage. Moreover, many great developers will never choose a company that works on one project only. They work in software houses that provide them with the possibility of growth in many areas.
Independency
A nearshoring company takes over the whole development process. It means that you can focus on other, probably core aspects of your business. You don't need to spend time on project management, because the person responsible for that, namely a product owner, can be a part of your nearshoring team. Also, when the contract ends – it ends. You're not left with any duties or responsibilities towards them.
Nearshoring – disadvantages
By all means, no solution is perfect. You'll face challenges no matter you nearshore, offshore, hire local companies, or employ your own team. Although we've mentioned similarities concerning time zone, culture, and language, you need to keep in mind that due to different mother tongues it still, in a way, may affect the effectiveness of communication. Most offshoring teams use English every day, so you and your team must be capable of that.
Second, you need to be aware that law or taxes may differ – and you might need a qualified person to take care of these aspects as well. They may be favorable for your business, but you need someone that knows the differences well – to avoid any problems that could take place.
How to choose the right partner?
The nearshoring relationship may be long-lasting, thus it's worth getting to know your partner well before signing the contract. Below you'll find some tips on how to check if the outsourcing company is the right choice for you.
Can I get to know the company beforehand?
A good way to get to know your business partner is to get a sample of work before making a final decision. It can take the form of workshops, kick-off meetings, or even first sprints that can end without any consequences. This allows you to test your providers and choose the best fit. You can also think about visiting a company to get to know your future development team face-to-face, see how they work, and their office.
Is the company transparent?
You're looking for a trustful business partner that will have no secrets from you, in terms of your project. You should be granted access to the implementation plan and all project management tools, so you can easily track progress and prevent any disturbances. You can also take part in team planning meetings, daily meetings, sprint reviews, and retrospective meetings, depending on if you employ an agile nearshoring company or not.
How do they ensure quality?
There's plenty of tools and methods your provider can use to ensure a high quality of your system. Ask about Quality Assurance strategy for your product and other quality control mechanisms such as keeping Architecture Decision Records or performing code reviews, manual and automated tests, and writing unit tests.
Nearshoring examples
An example of nearshoring is our project for MicroTechniX from Belgium. We've developed a laboratory automation software that is now used by ten top pharmaceutical companies. Separate apps were dedicated to particular machines and a superior system allowed to manage all the resources, permissions, and connect the devices. Read more about the automation of laboratory processes.
Yet another example is a smart home IoT solution for our client based in Norway. We've built a scalable and flexible Onesti application from scratch as well as a mobile app for its end users, so they can monitor and control the smart home and security devices from anywhere. More about the IoT for the smart home you'll find here.
If you're interested in the topic, more you'll find in the blog post on 5 common fears about nearshoring explained (highly recommended) and 8 tricky questions to ask to verify a nearshoring company.