Enterprise cloud computing can be seen as one of the most transformative technologies in the last decade. It offers higher scalability, elasticity, and business stability, and allows companies for significant savings compared to building systems from scratch and maintaining physical servers.
What is an enterprise cloud? The definition
We used to think about the cloud as servers accessed over the internet, bought from external providers, mainly for data storage. Back then, it was treated as an alternative to physical servers, which were, and still are, costly and involved a lot of maintenance.
However, the essence of the cloud for enterprise nowadays is managed services offered by the cloud providers. They can cover extensive developer tools – libraries of configurations, automations, and runbooks that can be used freely to build cloud applications. The cloud's scalability and relatively low cost have become a game changer for enterprises worldwide.
You can find the above apps under the terms: infrastructure as a service (IaaS) and software as a service (SaaS).
A hybrid cloud
We won't delve into this topic in the article, but it's worth mentioning that there's also a mixed environment called a hybrid cloud. In this case, the apps run in public and private clouds, and on-premise servers. The tasks are performed by clouds working together, sharing data or processes. A hybrid cloud is a popular approach as it doesn't make you dependent on a single solution or provider, which, in turn, helps you minimize the risk of app failure. It also offers greater flexibility to use solutions that work best for you in a given scenario.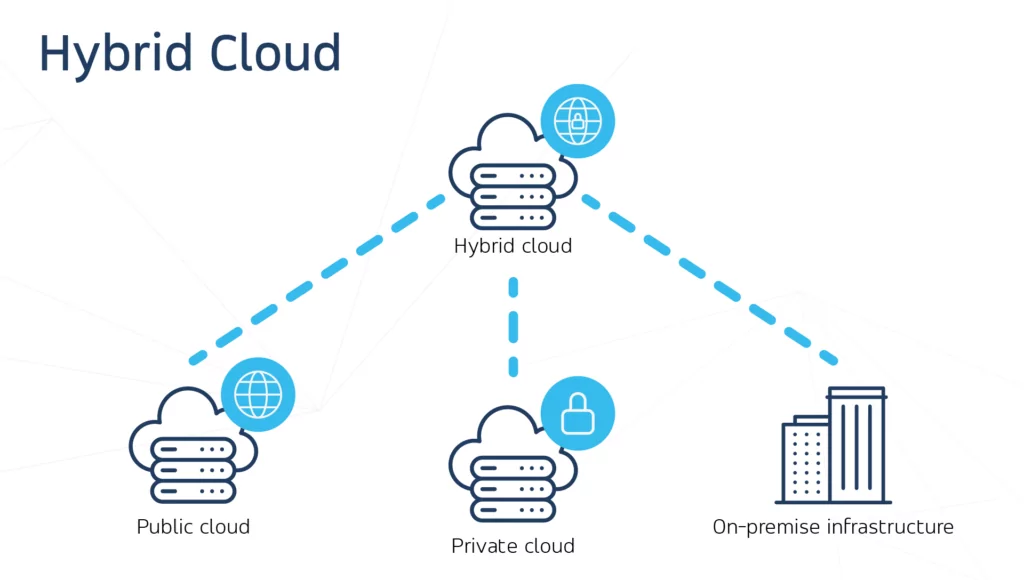 How to choose the cloud?
It's worth noting that all cloud providers offer more or less the same services. However, it doesn't mean you can toss a coin when choosing one. This is a landmark decision for your business, and the devil is in the detail. Thus, here are the factors we recommend considering:
The popularity of the provider
There are three leading enterprise cloud providers, namely
(data source: Synergy Research Group for Q3 2022)
On the whole, we wouldn't look further than the Big Three. They have data centers located all over the world, which translates into seamless access to content and services. In addition, they belong to esteemed global technological companies, so that you can be sure of the security of their solutions. In NeuroSYS, we partner with both Amazon and Microsoft; these are the clouds we recommend to our clients in most typical cases.
However, we'd like to highlight that some scenarios require a different approach to data storage, such as the one we've taken in our bacteria counting project.
Service availability
Having collected all the requirements, you may discover that there are particular services your system requires for proper functioning. They might not be available in every cloud, or their prices may vary dramatically. The services may be connected with integration tools, business applications, computing, databases, storage, security, and many more.
Team competencies
Typically, developers and DevOps specialize in particular enterprise clouds or just prefer one over another. For example, having a team that is experienced and certified in AWS might be a legitimate reason to choose a specific provider. This way, your team knows what to do straight away, which clearly saves you a lot of time and money.
Data centers vicinity
Although we mentioned earlier that the Big Three hold worldwide data centers, you can look for a provider with a data center closest to your end or target users. The edge locations' proximity allows for smoother content synchronization, which translates into faster and more reliable services. You'll find the (almost) exact points on the providers' websites, such as Google Cloud Points of Presence.
Budget
The cost of enterprise cloud service varies depending on the provider and your individual needs. The final amount can greatly affect your project's be or not to be. Keep in mind that when you choose the cloud provider for the first time, you can use various accelerating programs that enable using some of the services for free or almost free. AWS Migration Acceleration Program is one of the examples. Also, reserving a given capacity a few years in advance can reduce the price even down to 50%.
We always recommend contacting local support in the early going. They can help you gather requirements and collate their services with your context. Oftentimes it results in significant cost savings. We're also there to help you; just book a one-hour consultation, it's free of charge.
Legal/investor prerequisites
When you receive external funding, your investors can have the final say in many matters, such as choosing external providers. They might even want to avoid the Big Three because of personal anxieties. Also, when you develop and maintain, for example, governmental and administration systems, the applicable country law can forbid data to be stored outside of the country or the EU. In such a case, you need to find an enterprise cloud provider that operates locally.
How to migrate a system to the cloud step-by-step?
Cloud migration can be a large undertaking if you plan to move the whole company infrastructure. Taking into account the high complexity of such projects and many possible paths based on multiple decisions, we will show you the migration process of one system only.
1. Collect requirements and needs
First, you have to gather essential information, such as:
2. Choose the cloud in enterprise
Only by knowing the requirements can you start looking for a cloud provider. We explored the issue in the previous section, but let us highlight a few things.
First, it is a relatively simple task if you plan to move one system only. However, when you want to migrate all company systems, it can take months or even years. It is a landmark decision, and you can't take it lightly. Here, you'll have to carry out a thorough analysis of systems and company strategy. It doesn't mean, though, that you can't change your mind later on if your cloud of choice appears not to be serving the purpose. In such a case, backing off will be cheaper if it's a representative cloud.
Second, we reckon that service availability plays the most prominent role in the decision making, i.e., the services offered by the enterprise cloud providers, that should perfectly fit your system. It'll be much easier to migrate all the components in such a case.
3. Choose partners
Now it's time to decide with whom you'll go through the process. Usually, companies don't have enough internal resources, know-how, and experience to migrate systems swiftly on their own, keeping the risk minimal. Thus, it is vital to find a technological partner offering cloud computing consulting services, ideally specializing in the cloud you've already chosen.
Although we do migrations for our clients as a standard service, when our developers were busy working on commercial projects, we have also partnered with a third party to move our Nsflow platform to the cloud. You can read about the whole cloud migration process in our blog post.
4. Plan migration
You can schedule your cloud migration after you determine what, where, and with whom. Running the test version is an essential part of the process. It's not a dry run, as you do it with all the real data to verify if everything is correct and works well. Then, an important step, you have to conduct security and stress tests. To learn more, read the article covering 7 test types to ensure software quality.
5. Migration
If the test migration was successful, here comes the real one. You move the system with all its components and data to the cloud and test it thoroughly once again.
6. Maintenance
Just because the system works well in the cloud and you've achieved your goals doesn't mean you can rest on your laurels. Cloud computing for enterprise requires regular attendance, maintenance, and optimization. System updates are essential for your system to run smoothly, but also, when new cloud services come into life, as you can achieve significant savings by their introduction. Last but not least, only regularly maintained systems remain attack-proof.
Recently, thanks to ​​enterprise cloud management for our globally operating client, with thousands of system users, we were able to save a substantial amount of money. We achieved that by cloud optimization and introducing new AWS services.
A wrap-up
We've shown you the way when it comes to migrating single systems to the cloud, and what to consider when choosing the enterprise cloud. However, if you plan to move the whole organization to the cloud, you'll need way more time to prepare the process; thus, defining the steps can be challenging. So, do not hesitate to book a free consultation with one of our experts, and we'll show you how to move to the cloud as smoothly as possible, and point out the business gains you can expect.