In the maelstrom of development agencies, it might be hard to find a real gem. Yet, there are means to alleviate the pain. One of such is a software development trial.
As it isn't a run-of-the-mill solution, not all companies might have it on offer. Still way more common are free consultations, which by all means are a great way to verify your potential contractors at the initial stage and remove those not suitable from your list. But interviews won't show you how the cooperation would get along in practice.
What is a software development trial?
In short, it is one of the most effectual methods of verifying your future software provider before you engage in long-term cooperation. During the trial period, they work on your product, usually a single but a fully functional solution, so you gain insight into their effectiveness and software quality.
This approach aims at minimizing risk for both sides – for you, dear client, and for us, software providers (more on that in The major benefits section). All because digital product building is a mutual process that largely depends on effective cooperation. The product built is a result of both sides' input and heart for the project.
The steps of software development company verification
Now, let's place the software development trial in the process of looking for the most suitable contractor:
An initial check. You're rooting around companies on the market, searching Google, checking development company rankings, reviews, technologies they excel at, and scanning the firm and its team (among others case studies, clients, and LinkedIn profiles).
Interviews/consultations. Of course, you don't want to put all your eggs in one basket. Thus, you prepare a list of companies that you want to talk with. Don't forget to ask them these 8 questions!
Software development trial. Ideally, after a round of interviews, you feel who'd be the best fit. Now it's time for them for the baptism of fire!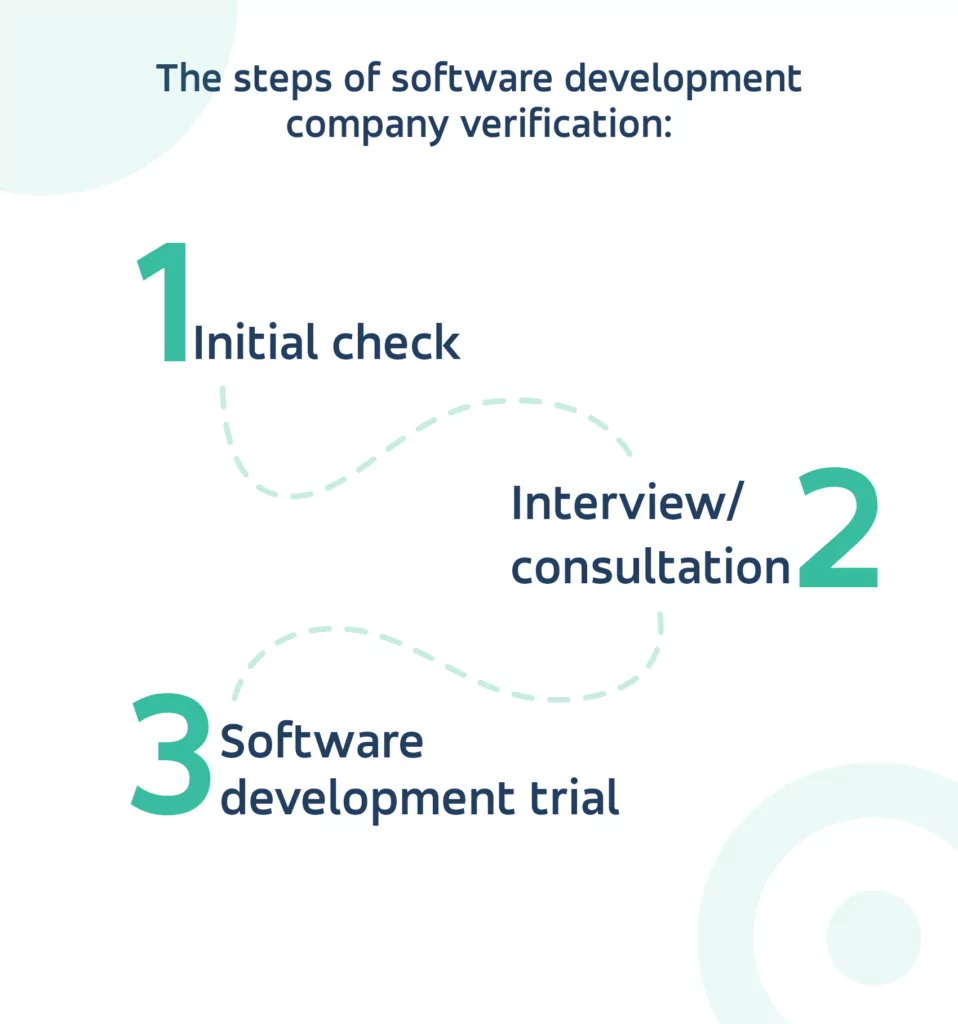 How long will this be goin' on?
There are no golden rules on how long such a trial should last. Clearly, it has to be long enough for you to test your development-team-to-be in the following aspects:
How they work (flexibility, on-time delivery, code quality, attention to detail, engagement)
How they communicate (responsiveness, transparency, articulateness, fluency)
How their solutions work (if they walk the walk).
We've learned through experience that often one sprint is enough to assess a company in the above areas quite accurately. And that's exactly how it works in NeuroSYS. A run-of-the-mill development trial, with no strings attached, lasts 1-2 sprints, which is 2 up to 4 weeks. However, it can take more now and then, which depends on the type of task carried out. We had a client with a 3-month trial as well.
How to choose a development task
Keep it small. Look for assignments that are simple and their desired effects easily defined. Then the verdict is unequivocal: the feature works = we cooperate with the provider, it doesn't = we need to continue our search.
Keep it challenging. Small doesn't mean it has to be easy as pie. Only more demanding tasks will show you how the team overcomes problems, communicate with you – and if they're capable of developing your application long-term.
Keep it applicable. Choose a feature in your own backyard. You want to test your company on a living organism and not on imaginary tasks.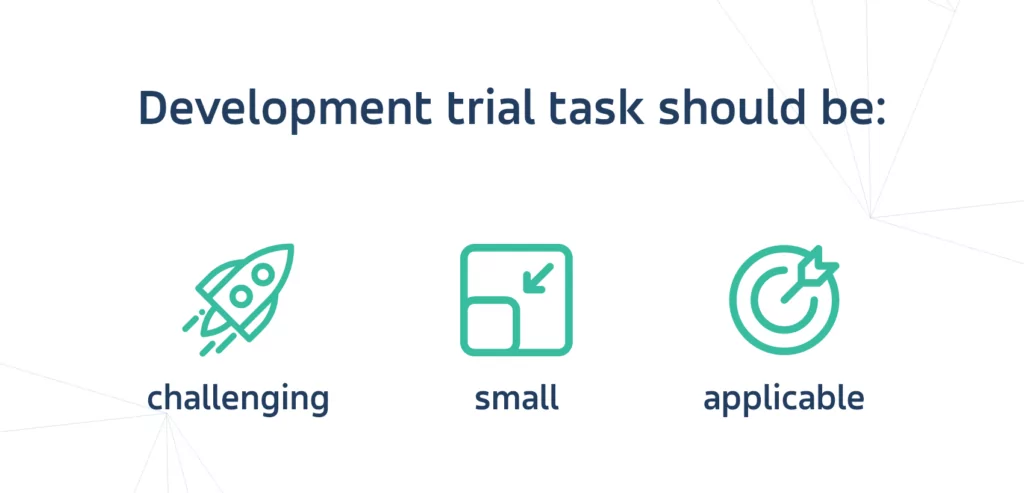 Is a trial free?
Most certainly a development trial won't be free of charge, at least it isn't in the case of our company. The reason is simple – it involves a number of IT experts on our side, from developers, UX/UI designers, to scrum masters/project managers. Working for several weeks for you. Communicating with you daily (if you wish so). Handing you the results of their work you can use them freely later on – source code, documentation, mockups, and outlines.
PS
Still, we offer free consultations, during which we discuss your project in detail. Feel free (pun intended) to try it!
The major benefits
Above all, the development trial aim is to minimize the risk of working with a new software provider. You can verify them in terms of their work quality, communication, transparency, and whether you just work well together with no long-term commitment. The moment the trial ends, you simply say Adios! and start looking for a more suitable software agency. If you're still not convinced, you can always verify the code quality, development process, and tasks with an external expert.
Sometimes the problem lies not in the software quality itself but in the project management or communication. There's no other way to verify it than to start working with each other. And since the cooperation can take months or even years, it's better not to leave out this step.
The drawbacks
As always, it's complicated. There are no drawbacks if you've got a simple feature that can be developed and thus your software provider adequately tested. Even if you won't decide to prolong the cooperation, for a variety of reasons, there is no significant risk involved. What are a few weeks compared to the months you've saved this way?
Worse, when there is no simple task to take on or the project entry threshold is large (a complex project to develop or rewrite). There are a few ways of dealing with a situation like this. The simplest, most natural one is to extend the trial period. Surely, your provider will come up with more good options, based on your particular case.
Just before you start…
On a side note, before you sign NDAs and grant access to your documentation, make sure you own the code and all other visible effects of the trial. I won't rant about it here, hence more on the topic you'll read in the separate post on code ownership. Just to make it clear, a good software development company will have it already included in their contracts.
To sum up, if choosing a software company gives you the willies – try development trial. It is an effective and relatively quick method to verify your contractor before you engage in a serious relationship. Good luck with that!